24-08-06
If you take a walk through the forest, at midnight or dawn, you might happen to see the beauty of the faries. They are exceptionally intelligent and generally friendly unless they are bothered. They can best be seen if you ask them politely, never demanding.The most important thing about seeing a faerie is that you must believe in them, otherwise you will never get a chance.

Faeries are most likely found in forests, meadowlands, near streams and brooks. Signs that a faerie may be near include: feeling as if someone is watching you when you see no one there, feeling as if an insect is touching you when it appears that there isn't one there, a wonderful fragrance or hushed giggling.
Remember, only true believers see faeries! If you are lucky enough to see a faeries you have experienced one of the most magical moments in your life
18-07-06
Het Volk van de sterren… lang en slank met een verblindende schoonheid en elegantie…
dat is het volk der Elfen.

Het meest opvallende zijn hun spitse oren en hun grote ogen in de meest vreemde kleuren.
Elfenvrouwen en mannen dragen hun lange haren meestal ongebonden, en zij laten geen baard staan.
Door hun perfecte en serene gezichten kan je vaak niet goed zien of een Elf juist man of vrouw is…
Ze zijn trots op hun lichamen, die sterk zijn en blank-
De meeste Elfen lopen dan ook rond in weinig verhullende wappergewaden
en zij dragen de meest prachtige sieraden om hun slanke hals of handen.
Zij kennen geen ziekte en leven langer dan je ooit had gedacht; zij leven honderden jaren,
en er zijn zelfs elfen die 1000 jaar oud zijn geworden.
Elfen verliezen in die jaren hun schoonheid niet maar gaan juist meer licht geven.
Elke Elf heeft een doel in haar leven.
Als dat doel wordt bereikt dan zal zij sterven… dit kan na 500 jaar zijn maar ook na 5 jaar…
De naam van een Elf zegt iets over het doel in haar leven…

Als enige wezen in Fantasy Forrest kan een Elf sterven van verdriet.
Elfen houden niet van strijd, maar helaas ontkomen ook Elfen niet aan oorlog en geweld.
Hiervoor hebben zij prachtige zwaarden en messen gesmeed.
Want zoals je misschien wel weet, is er geen volk dat zo mooi kan edelsmeden als de Elfen.
En geen een volk maakt zulke krachtige magische voorwerpen en sierraden als de Elfen…
Volgens de legende zijn de Elfen geschapen door Eru in hetzelfde uur dat de sterren ontstonden.
Als nieuwe Elfen hun ogen voor het eerst open doen, dan zien zij het Licht van deze sterren.
Elfen aanbidden dit SterrenLicht met heel hun hart en ziel, en dansen in het licht van de maan.
Als het SterrenLicht voor de eerste keer hun ogen bereikt dan blijft het er voor altijd inzitten.
Je kan het zien schitteren als een Elf je aankijkt…
In hun haar schittert het SterrenLicht als gesponnen goud of zilver, en ook straalt het licht uit hun huid.
Elfen hebben prachtige en gevarieerde stemmen.
Het zal je dan ook niet verbazen dat zij uitblinken in spreken van poëzie.
Je weet vast wel dat Elfen hun eigen taal hebben...
Ook kunnen zij zo betoverend mooi zingen dat je hart zich vult met warmte…
Elfen zijn de eerste wezens die zongen, voordat anderen hen hierin volgden.

Niemand weet precies waar Elfen wonen.
Maar als je hen zoekt, ga dan naar het betoverende Avalon..
Avalon is een plaats waar de tijd anders loopt,
waar de mensen anders zijn en waar je jouw eigen waarheid vindt.
De meest magische plek van dit alles is de Tor.
Hier komen het heden en verleden, onze wereld en de onderwereld samen.
Dit is het thuis van de elfen…
Elfen hebben ook een kalender.
Hoe zouden ze anders afspraakjes kunnen maken met elkaar om te zingen of te jagen?
De grootste periode van de Elfenkalender is Rinda of Era: dit is het tijdvak waarin iets gebeurt.
Tijdvakken duren meestal enkele duizenden Elfenjaren.
Een Elfenjaar is een periode van 144 zonnejaren; 1 zonnejaar is precies zo lang als de zon nodig heeft om rond de wereld te draaien.
Elfen noemen een zonnejaar Loa; het begint ergens eind maart en eindigt het jaar daarop
Er zijn vele soorten Elfen, zoals boselfen, woudelfen, sneeuwelfen, bloemenelfen.
Natuurlijk kent iedereen Elfen: Legolas en Arwen, de Elfen van LOTR.
De bekende strijd om de Ringen, gesmeed door de Elfen en Sauron...
Een verhaal vol macht, oorlog, vriendschap, hobbits, orksen, mensen, elfen...


msnusers.com/quenya lessen
http://nl.msnusers.com/allesoverdelordoftherings1en2
http://groups.msn.com/LotROnline
17-07-06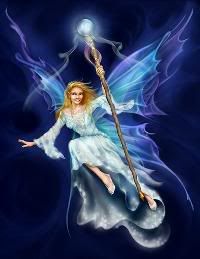 Precious little darlings, All dressed in pastel hues,
Flighty little fairies That carry honey dew.
Sparkles in their pockets And gold dust in their hair,
Carrying stars to heaven To hang them in the air.

They float above the clouds, Way past the yellow moon
Carrying the golden stars To light the sky for you.

Sliding on the moonbeams, Giggling as they go,
Draping stars across the heavens, They put on quite a show.

Fairy dust floats through the sky, Comets streak near by,
The fairies are so busy, Now and then they give a sigh.

A falling star drifts slowly, Toward the earth below,
It fell from a fairy pocket Or maybe she just let it go.

Precious little fairies, That stock the sky with stars,
I'll bet you never knew, That they could fly so far.

Sliding down a moonbeam Or dancing on a star,
You'll never know They've been there,
Fairies never are, ... Are they ?
Queen of the world
Queen of the world
Daughter of the sun.
Child of the forrest.
Wife of the king of the universum.
Friend of all people.
Dancing with the stars.
Waiting for the end .
Queen of the world
Daughter of the moon.
Child of the sea.
Wife of her loved one.
Friend of al animals.
Dancing with the stars.
Waiting for you to come.
Queen of the world.
Daughter of the sun and moon.
Child of the sky.
Wife of the one she loves.
Friend of god.
Dancing with te stars.
And still waiting.
And de end is near.
I can feel it
I can feel you.
Soon..
Fearie
Where take thee thy heart?"
Asked the prince of his love.
"Shall you carry it away
to the clouds high above?"

"No,
I take it to Faerie
Where men grow not old;
Where castles are built
of rubies and gold."

"And where will you go,
my dear, dear girl?
Where will you wander
in this great, great world?"

"Over the hills
of Blackmoor and Wilvur,
on through the lands
of Gerrys and Tilber!
Along the river Staele
for one month and a day
'til the farmlands grow barren
and the skies turn gray.

"There shall I stop,
and there shall I wait
for the guardsmen of Faerie
to open the gates."

"If you leave,
then know I shall follow
'cross ocean and wood,
mountain and hollow."

"Do not try to find me,"
said the maiden so fair.
"For I shall remember neither
your visage nor your hair.

"For you see the price of passage
is that one must forget
all that came before Faerie
and all that one left.